Fuller House  Season 3 had debuted on Netflix, and the good old fans who have watched all the shows uptil the season finale and they have been treated to many references from Full House. The finale had featured a very familiar face from the old series and DJ (Candace Cameron Bure) wonders who else they may track from the past and says, "I wonder what Urkel's up to?"
This was a fun nod to an old episode of  Full House , where  Family Matters' Steve Urkel (Jaleel White) was brought in.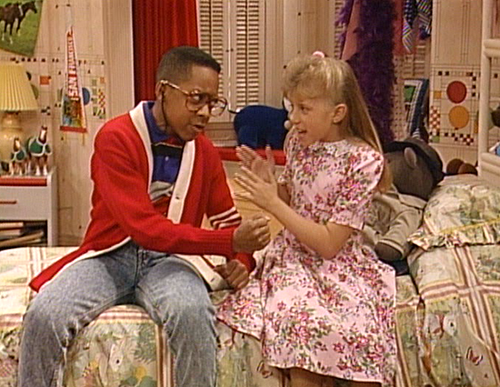 Full House and Family Matters had been produced by Miller-Boyett Productions and Lorimar Television. In 1991, Steve Urkel was Julie's cousin (DJ's friend) (Tasha Scott), who gave Stephanie Tanner (Jodie Sweetin) a little  advice, after he learnt that she was to wear a pair of reading glasses. Fuller House has brought in many characters from their original series and some did not expect a line to be dropped about Urkel. Here is what Full House and Fuller House creator, Jeff Franklin had to say:
"I loved when Urkel was on  Full House, so I'd love to see him back on  Fuller House. I'm good friends with Jaleel, and we've talked about it. It's a really big deal for Jaleel to bring this character back, so I'm not sure that he wants to, but if he does decide to, this would be a great way for him to reprise the character. And who knows, maybe that'll happen. I'd love to see it. I think everybody's curious about whatever happened to Steve Urkel, so the audience would really enjoy it. We have some fun ideas, so we'll see how that shakes out."
Fuller House Season 3 was way bigger than its first two seasons. It had 18 episodes that were split into 9-episode halves. Netflix has not yet announced any new episodes. It will not be surprising if Netflix gave their fans a  Christmas present by issuing its Season 4.
The original Full House ran for 8 seasons and 192 episodes. Fuller House Season 3 had celebrated its 30th Anniversary on the day it had debuted (September 22).